Use one machine to make pocket folders and the SAME machine to do packaging! The OmniFold 3000 Automatic Folding and Gluing System is a fully modular converting system designed to fulfill your needs today and grow to meet your future demands.

Use it in the morning to run a graphics job, use it in the afternoon to run a packaging job. It's that simple! Built to maximize converting capabilities while minimizing set-up time, the OmniFold 3000 brings productivity and innovation to a new level.

Configuration Examples: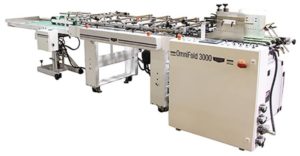 OmniFold 3000 short configuration for converting boxes, sleeves and other straight line products, but easily changed to be able to do other jobs as well. This configuration includes Friction Feeder in the Docking Station, an IL6 Converting Table and a Stacker.
The OmniFold 3000 above is configured in a versatile configuration to be able to convert most finishing folding and gluing jobs. In this configuration we have a vacuum feeder in the docking station, an IL6 converting table with registration, into a buckle unit, then an IL9 converting table and a stacker for delivery.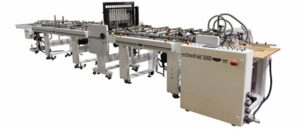 Here is what a Kluge customer has to say about the OmniFold 3000: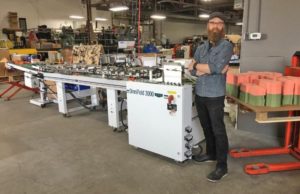 "With the addition of the Kluge OmniFold 3000, we will be able to supplement our current offering with fold and glue finishing services, enabling us to better  service our growing customer base."
Ben Levitz, Principal,  Studio On Fire