SunDance Continues to Transform the Ordinary into Extraordinary with Addition of New Kluge Foil Stamping, Embossing and Die-cutting Press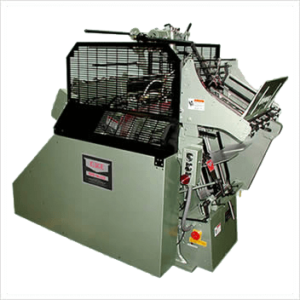 Orlando, FL, January 26, 2017 – SunDance (sundanceusa.com), an Orlando-based firm offering design, print and mailing services, and Brandtjen & Kluge, a manufacturer of specialty print finishing and converting equipment, -today announced SunDance has acquired a brand new Kluge foil stamping, embossing and die-cutting press to better serve its customers and maintain its competitive advantage in the greater Orlando area and beyond. https://sundanceusa.com/services/bindery-finishing/foil
"As the New Year unfolds, we continue to invest in a wide range of services that will enhance the value of our customers' printed products," said JohnHenry Ruggieri, Managing Director. "And nothing adds value to a printed product like foil stamping, embossing and die-cutting. While we have been offering these services for some time, this new press will improve quality, add more flexibility and make it faster for us to deliver outstanding products to our customers. It will improve our makeready times by at least 15 minutes per project, which adds up quickly when you consider the number of short run, quick turn jobs that come through our shop."
The Details
The new Kluge 14×22 EHD Series Foil Stamping, Embossing & Die-cutting press at SunDance features:
A simple, but very accurate feeding mechanism to ensure a wide range of stock can pass through the press without error or mis-registration. A missed sheet detector prevents die, makeready and press damage.
A Mechanical Foil Control System that enables the simultaneous use of three rolls of foil for the ultimate in foiling efficiency and flexibility.
Extremely tight registration for accuracy in foiling, embossing and die-cutting a wide range of media.
"The sky's the limit in terms of what this new press can be used for," Ruggieri adds. "We expect to use it for everything from folding cartons and greeting cards to book covers and mailing pieces. We're excited to bring this new offering to our clients to enhance the value of their important projects!"
About SunDance
SunDance is an innovative print solutions company focused on delivering quality cost-effective and timely solutions with exceptional customer service. Our state-of-the-art manufacturing facility boasts a distinctive assortment of equipment perfectly paired to give our clients the advantages they want and need. For more information about the SunDance Experience, visit www.sundanceusa.com.
About Brandtjen & Kluge
Adding value since 1919, Brandtjen and Kluge is a fourth generation family owned manufacturer of specialty print finishing and converting equipment.  For over 95 years the brand name "Kluge" has represented innovation, technical leadership, productivity and rugged durability to companies worldwide.  Headquartered in St. Croix Falls, Wisconsin, USA, Brandtjen and Kluge markets equipment through a direct sales force in the United States and Canada and has a well-established network of industry-qualified distributors to provide global coverage.  For more information visit us at www.kluge.biz.