WAUKEGAN, IL – February 26, 2019 — Eagle Systems, Inc., a U.S.-based developer and manufacturer of foil enhancement equipment, today announced that Nosco, a subsidiary of Holden Industries, Inc., has installed the Eagle Systems Cold Foil in their Bridgeview production facility, in-line with their Komori 8-color press.

Founded in 1906, Nosco is a premier provider of printed packaging for the healthcare industry, putting an emphasis on service to the natural health, pharmaceutical and personal care markets. The company operates six plants across the country, with nearly 700 employees and in excess of $100 million in annual revenue.
With a reputation for quality, Nosco chose Eagle Systems Cold Foil and brought its foil applications back in-house last October. Previously, all of the company's foil work was done using the hot foil method, and was outsourced. Bringing Cold Foil in-house immediately allowed for faster turnaround times, as well as even more stringent quality control advantages for clients.
Craig Curran, president of Nosco, said, "We have a long history and reputation in the healthcare industry, and we are well known for our innovation. Having the Eagle Systems Cold Foil is already helping reduce cycle times for our clients and, being able to manage the entire process internally, has been a significant benefit."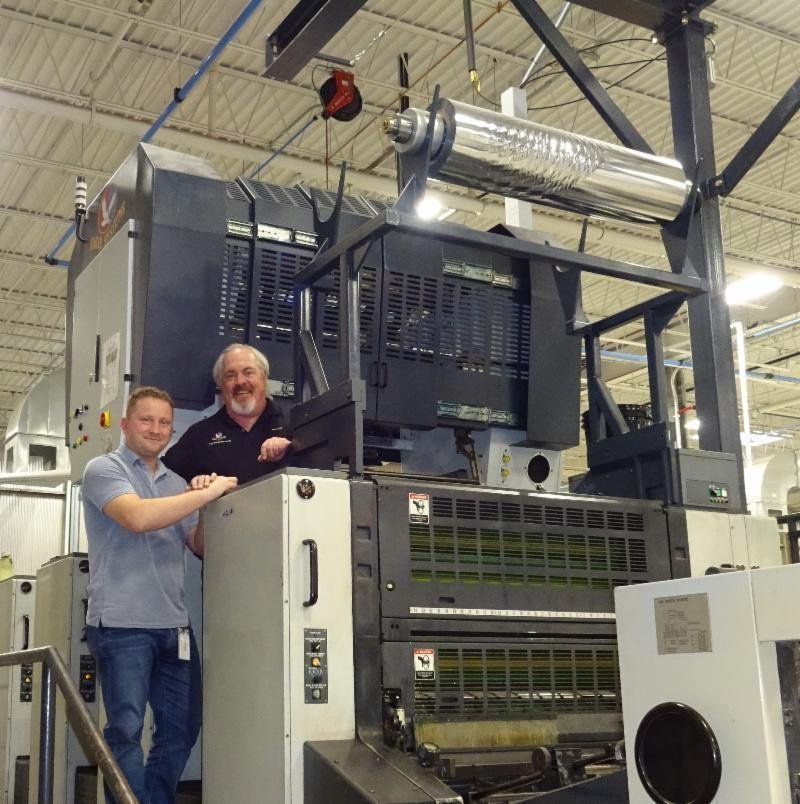 The company is still in the process of bringing its hot foil jobs in-house, with Curran noting that the choice of systems was driven by the need to replicate current projects with the look and feel hot foil. "Our customers didn't want to see a big difference between the two methods," he said. "We found the quality of Eagle Systems was best in terms of matching those jobs."
Eagle Systems wasn't the only company Nosco considered for Cold Foil. However, ultimately after doing a trial with customer work in a facility on the west coast, Nosco made the decision to purchase the Eagle Systems Cold Foil equipment. "We believe Eagle Systems offers the greatest value," noted John McKeough, senior VP of operations at Nosco. "We evaluated the ease of setup and the end quality, and we were convinced after the trial that Eagle Systems was the one that could replicate our product while streamlining our process."
In the months since the Eagle Systems Cold Foil was installed, Nosco has nothing but praise for the team. "Eagle Systems did a great job getting us up and running quickly," said Curran. He noted that they ultimately purchased the equipment from the show floor at PRINT 18 in Chicago, and within approximately a month, it was installed and up and running. "I would give Eagle good marks for developing a plan for the installation, training and getting started. We were fully up and running by early November."
About Nosco
Nosco is a full-service packaging solutions provider with a vested interest in the long-term success of its 400+ customers. With more than 110 years of experience, Nosco brings together business resources and technical expertise to better understand packaging challenges and deliver customized solutions. The company focuses on service to help continuously improve efficiencies related to supply chain, cycle times, lean initiatives and product launches. Nosco is a subsidiary of Holden Industries, Inc. and is 100% employee owned.
About Eagle Systems
For more than 35 years, Eagle Systems has been the industry leader in the design and manufacture of foil application and print enhancement equipment such as Hot Foil stamping, Cold Foiling and Cast and Cure. With hundreds of installations around the world, the Eagle Systems brand has become synonymous with quality, reliability and state of the art innovation. Completely manufactured, assembled and tested at their plant in Ocean New Jersey, the Eco-Eagle Systems are installed and in production within five days. Using advanced technology and the power of the internet, the highly automated Eco-Eagle Systems reduce foil costs, run smoothly and foil dust free without operator intervention. For more information about Eagle Systems products, go to www.thefoilexperts.com.