20 September 2017  –  Nailsworth, UK
C & D PRINT MEDIA,  based in London, UK, have recently installed a Kluge EHD Foil Stamping, Embossing and Die Cutting Platen Press.  The press was fully remanufactured at the Kluge facility in St Croix Falls, Wisconsin, USA  and delivered with Adjustable Impression  – an optional feature which decreases make-ready time and allows the impression to be infinitely adjusted with the simple turn of a handle.  Desgined to accommodate sheets up to 17"x24.75" (431mmx628mm) with up to 40 square inches of die area, the Kluge EHD is known for providing years of reliable service and is well established within the industry as the standard by which all presses in its class are measured.
C & D Print Media is a well established commercial printer based in the heart of London.  The company maintains a very high degree of versatility of print production through having digital (HP Indigo) and litho (Heidelberg) capabilities, with a vast array of finishing equipment to finish jobs on the premises. This allows control of quality to the highest level, which is a critical part of the company ethos.
To this end, in order to extend and enhance foiling, embossing and die cutting processes, the company invested in a Kluge EHD platen press to run alongside its existing Heidelberg platen.  Managing Director Charlie Anderson says,  "The addition of the Kluge has not only allowed supplementary processes such as the embossing of thick board, but because of the extra impression pressure available, it has had a positive effect on the end quality of the product".
Anderson continues, "The four C & D directors visited DRUPA in 2016 with a view to sourcing a more 'green button' technology for foiling, embossing and die cutting. Although there were some available in the market, there was a large gap between versatility and quality of the machines and the company requirements for producing a high quality end product.  During the Kluge EHD demonstration at DRUPA, it became totally compelling for us to invest in this machine based on its versatility and the quality of product it could produce."  Anderson adds, " Even though it would still require a skilled operator, it was clearly  the purchase to make as quality is something on which we will not compromise."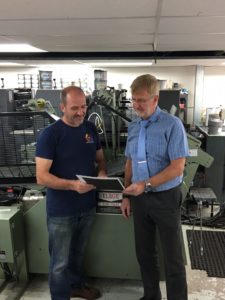 About Kluge International (part of AeTee Limited)
Kluge International (part of AeTee Limited) operates as the UK and International Sales and Support arm of Brandtjen & Kluge Inc., a US manufacturer of reliable, high quality print finishing equipment.  Kluge International is responsible for sales of machines, spare parts and service for all international customers outside of North America.
The Kluge line of equipment includes foil stamping, embossing and die cutting platen presses, and multi-function and high-speed straight-line folding and gluing equipment. All Kluge equipment comes with approved CE guarding, installation, training, and full warranty.
AeTee Limited also offers other print finishing equipment including Eagle Cold Foil Systems, Straub Tape Systems and Tape Applicators, and Insignia Rotary Die Cutters. Please take a look at www.aetee.com for further information.